Midnight Mend Night Oil: Meet the Ingredients Behind the Magic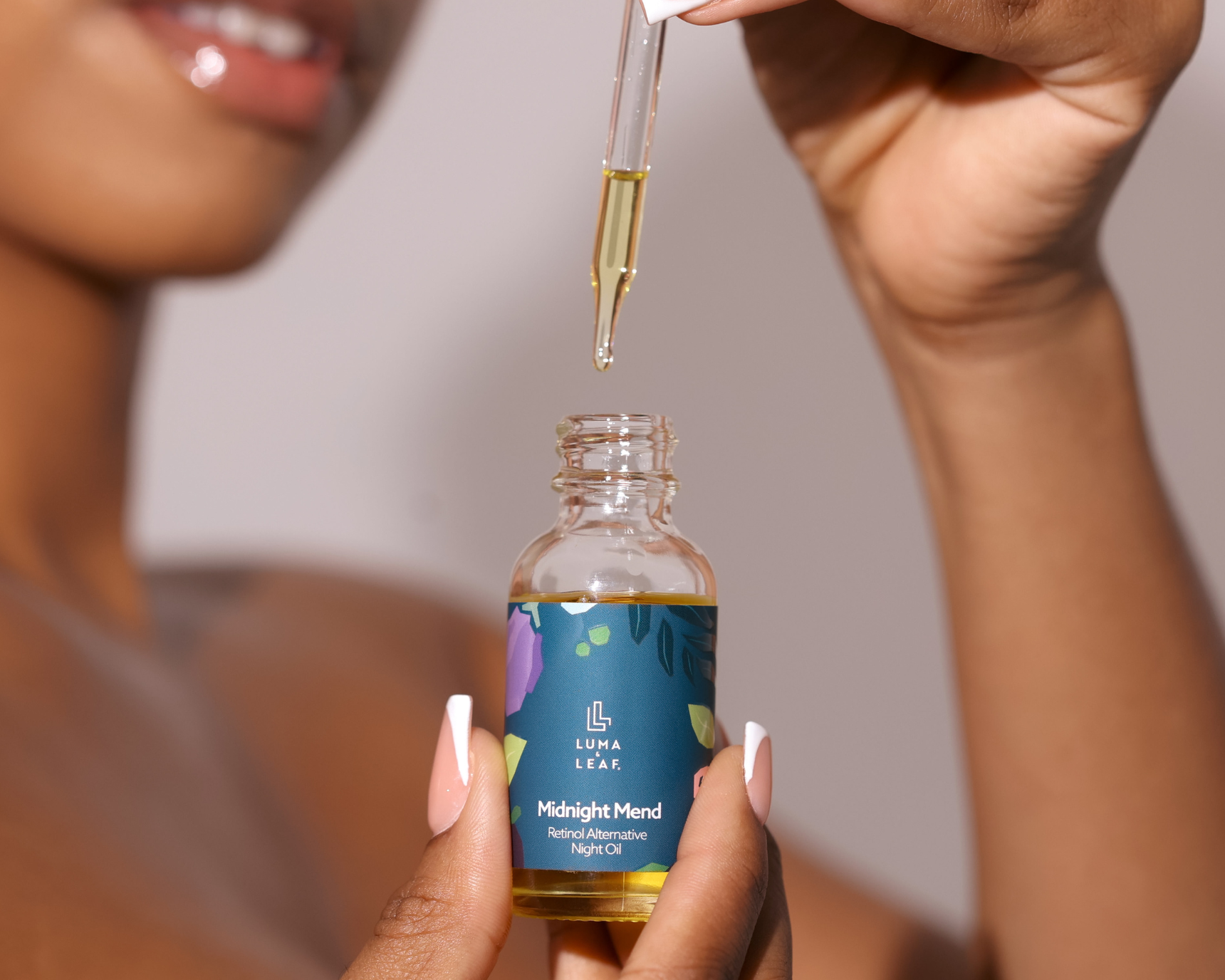 Make nighttime the right time for skincare magic. Dive into the ingredients for our newest product, Midnight Mend Night Oil. 
Skincare is the word on everyone's lips when it comes to anti-aging techniques. But, do you know what the right products are actually doing to keep your skin looking and feeling youthful? As we get older, our skin loses elasticity by naturally reducing the amount of collagen we produce. As a result, we start to notice fine lines and wrinkles (which are just as beautiful, in our opinion). 
In order to keep our skin looking fresh and full, we must provide our skin with additional collagen to supplement the loss. The best time to do this? Midnight (or during your nighttime routine, to be more direct). When we sleep, our skin loses water and works overtime to increase cell turnover. By utilizing the right products before getting some shut-eye, you can give your skin the hydration and nutrients it needs to do its thing. Our Midnight Mend Night Oil supports all of the above for smooth, plump skin all life long. 
What's the Sitch? 
We're all about providing our clean skin crew with products that can support them from head to toe, day to night. That's why we decided to create a product that can work its magic while you're gaining your beauty sleep. 
The Midnight Mend Night Oil is a retinol-alternative facial oil that contains key components for slowing signs of aging. Plant-powered secret ingredients include phytoceramides, rock samphire, plum oil, and bakuchiol. These ingredients work together to target elasticity and reduce the appearance of fine lines and wrinkles. Wanna know how? 
Dive into Midnight Mend Night Oil's Ingredients: 
Phytoceramides: Ceramides are an underrated skincare ingredient due to their ability to improve the skin's moisture barrier. We turned to phytoceramides, specifically, to help rebuild and restore the protective barrier of the skin, improve visible signs of aging, and block damage from environmental stressors. 
Rock Samphire: Not to be confused with a sparkly sapphire, rock samphire is a magical natural ingredient that is rich in unsaturated and saturated fatty acids. It tightens skin and has incredible retinol-like properties to visibly smooth fine lines. We especially love that it comes from our girl, Mother Nature. 
Plum Oil: Bet you didn't see this one coming. Plum oil is an anti-inflammatory ingredient that does wonders for skin. It protects against free radical damage and aids in sebum production, all while plumping and brightening skin. Plus, our plum oil is upcycled from plum kernels sourced from the food industry. Waste not, want not. 
Bakuchiol: You may recognize bakuchiol from our Clear Slate Serum, but this retinol-alternative is amazing for reducing pore size and increasing skin firmness. It's generally safe for all skin types and plays well with others. 
Add Midnight Mend to Your Nighttime Regimen 
What kind of beauty brand would we be if we didn't conjure up the perfect nighttime skincare routine for you? It's as easy as 1, 2, 3 with Luma and Leaf. 
1) Cleanse with Hydraglow Cleansing Gel
2) Follow it up with Clear Slate Serum
3) Moisturize with Fresh Lift Moisturizer
4) Massage with Midnight Mend Night Oil