We've made it our priority to meet the clean beauty standards developed by the EU and several trusted beauty retailers.
So when we say clean, you'll know what we mean.
No Bad Stuff. Ever.
Here are just a couple of ingredient examples of how we change things up in our clean, cruelty-free products:
IN

Gentle Retinol Alternatives

Soothing Botanicals

Nourishing Vitamins

Hydrating Oils
OUT

Artificial Fragrances

Animal Products

Petroleum

PEGs
Full List of Banned Ingredients
1 4-Dioxane, Acetone, Acrylamide, Alcloxa, Aluminum Chloride Hexahydrate, Aluminum Chlorohydrate, Aluminum Salts, Ammonia, Ammonium C6-16 perfluoroalkyl ethyl phosphate, Ammonium Xylene Sulfonate, Benzalkonium Chloride, Benzethonium Chloride, Benzocaine, Benzophenone-3, Butylated Hydroxyanisole, Butylated Hydroxytoluene, Bromostyrene, Butoxyethanol, Butyl methacrylate, C9-15 fluoroalcohol phosphate, Chloro Trifluoropropene, Chlorphenesin, Cloflucarban, Coal tar, Diazolidinyl Urea, Diethanolamine (DEA), Dimethyl phenylbutanol, Dimethylmethoxy Chromanyl Palmitate, DMDM Hydantoin, Ethanolamine (ETA), Ethyl acrylate, Ethyl methacrylate, Fluorosalan, Formaldehyde, Formaldehyde-releasing agents, Hexachlorophene, Hexylresorcinol, Hydroquinone, Hydroxypropyl methacrylate, Imidazolidinyl Urea, Iodopropynyl Butylcarbamate, Isododecane, Isoeicosane, Lead, Lead acetate, Lidocaine, Melanin, Mercury, Methoxyethanol, Methyl Cellosolve, Methyl methacrylate, Methyl Nicotinate, Methyl perfluorobutyl ether, Methylbenzethonium chloride, Methylchloroisothiazolinone, Methylene glycol, Methylisothiazolinone, Microbeads, Mineral Oil, Nanoparticles, Octafluoropentyl methacrylate, Octinoxate, Oxybenzone, Parabens, Paraffin, Pentafluoropropane, Perfluorodecalin, Perfluorodimethylcyclohexane, Perfluorohexane, Perfluorononyl dimethicone, Perfluorooctyl triethoxysilane, Perfluoroperhydrophenanthrene, Petrolatum, Phenol, Phenoxyethanol, Phenylethyl resorcinol, Phthalates, Picaridin, Polyacrylamide, Polyethylene glycol, Polyethylene Terephthalate, Polyimide-1, Polymethyl Methacrylate, Polypropylene, Povidone-iodine, PTFE, Quaternium 15, Resorcinol, Retinyl Palmitate, Sh-oligopeptide-1, Silver Citrate, Sodium Bisulfite, Sodium Dodecylbenzenesulfonate, Sodium Hydroxymethylglycinate, Sodium Lauryl Sulfate, Sodium Laureth Sulfate, Sodium magnesium fluorosilicate, Sodium Oxychlorosene, Sodium styrene, Sodium xylene sulfonate, Styrene, Synthetic Fluorphlogopite, Synthetic Fragrance, Talc, TBHQ, Tetrahydrofurfuryl methacrylate, Tetrasodium Etidronate, Thimerosal, Toluene, Tribromsalan, Triclocarban, Triclosan, Trimethylolpropane trimethacrylate
Check out the EU banned ingredients list for even more dirties that aren't in our lineup.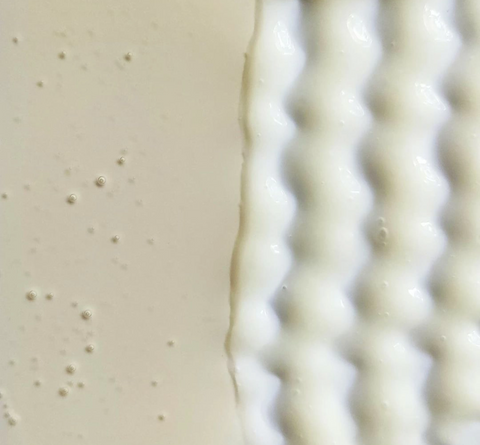 "Clean" Had To Do Better
We've been devotees of clean beauty ever since learning of the not-so-great ingredients hiding in our own top-shelf skincare products. 
We felt betrayed and even a bit frustrated at ourselves for not realizing it sooner. The brands we trusted were taking serious shortcuts, and that didn't sit well with us.
Determined to make a change, we ventured to the other side of the aisle, but the experience left much to be desired. "Clean" seemed to mean bland, uninspired, and lacking of the elevated experience we were accustomed to.
We were ready to make a change. 
QUALITY YOU CAN TRUST

Your skin deserves to be cared for regardless of type, tone, or sensitivity. Our formulas undergo ethical sensitivity testing on human volunteers to ensure the products are well tolerated on skin, show no signs of irritation, and are safe. For a lineup that only brings health, luminosity, and balance to your skin.

PLANTS WITH BENEFITS

Goodness fuels our formulas. By capturing actives in specially crafted concentrations with our Greenhouse Blend® and other botanical-based proprietary blends, we effectively target skin concerns without the use of harsh ingredients.