Everything You Need to Know About Clean Beauty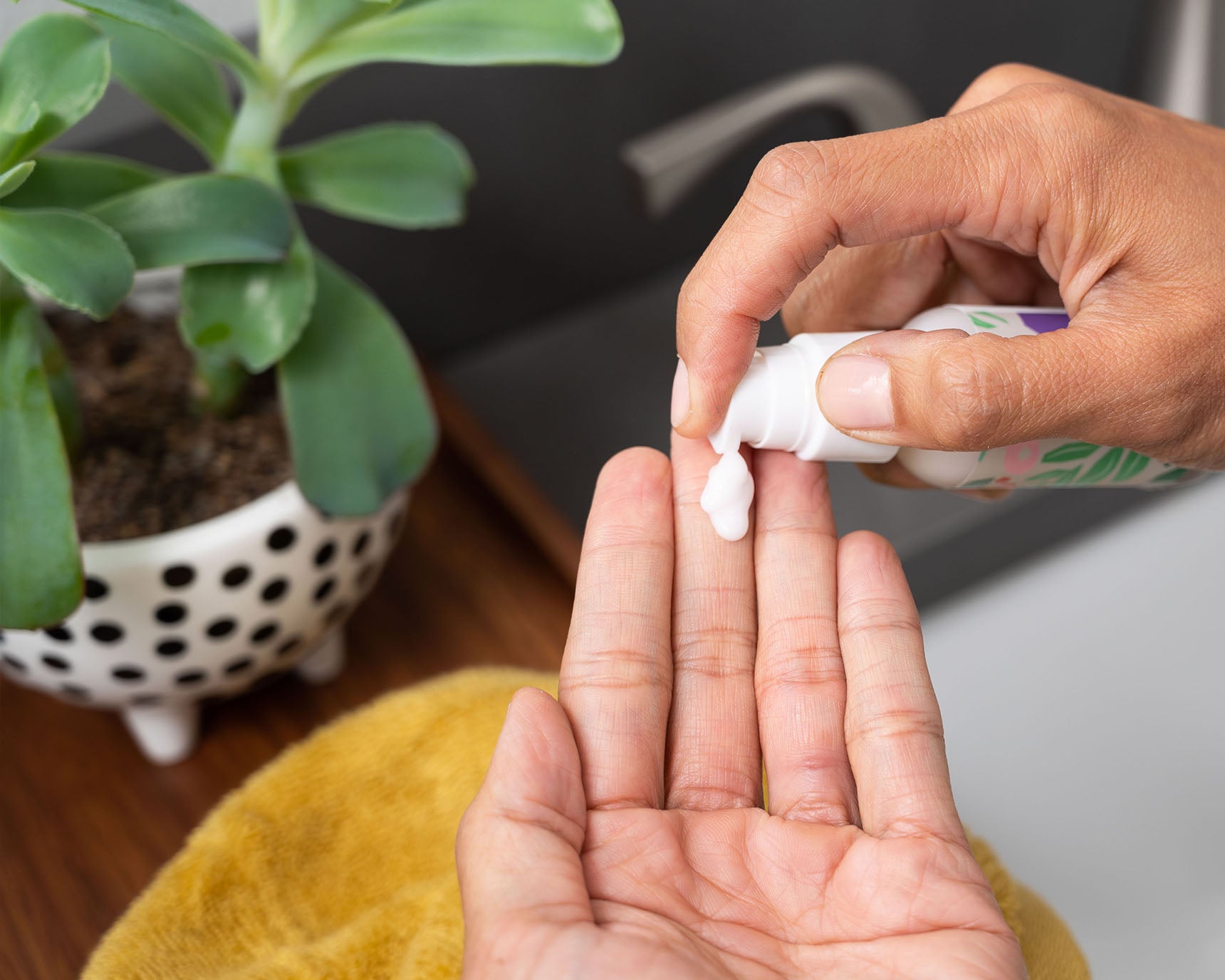 Clean beauty is simple, safe skincare that nourishes your skin from the outside in. It's a revolutionary way of approaching how skincare products are made, and we are proud to embrace clean beauty as one of our Guiding Lights.
What is Clean Beauty?
Clean beauty consists of using wholesome, nontoxic ingredients to achieve the same, flawless results. Instead of adding harsh chemicals to our products, we use nature. Because plant-powered is just best. When we talk about clean beauty, we are just as concerned with what isn't in a product as what is.
Drugstore and department store shelves are lined with products that incorporate chemicals that may be unsafe for use. Clean beauty empowers us with skincare products that are safe and nontoxic - for our skin, our bodies, and our planet.
Why is Clean Beauty Necessary?
If you're new to the clean beauty movement, you may wonder why we need to avoid ingredients found in popular skincare products. Many products found on drugstore or department store shelves contain chemicals that are at best controversial, and at worst unsafe. But, how is this allowed? If it were up to us, it wouldn't be.
The beauty industry is largely self-regulated with little oversight governing the safety of cosmetics. While the U.S. Food and Drug Administration (FDA) is responsible for oversight of cosmetics, the law does not require these products to be tested for safety before hitting the shelves. Yikes, right?
The FDA has authority to investigate problems when they are reported, and the government organization can issue warning letters to companies if the products violate safety standards. However, the FDA has little authority to force compliance, and it is usually left to the individual companies to decide which products are available to consumers.
This essentially means cosmetic safety standards in the U.S. are far more lenient than those in the European Union and other developed nations. Many chemicals permitted to stay on the shelves in this country have been banned in others due to safety concerns. Some chemicals may be safe for one-time or occasional use, but we just don't have proof that they are safe to use every day for long periods of time. And that doesn't sit well with us.
Because our current system of regulation does not provide adequate protection for us, we as consumers must be vigilant to protect ourselves from harmful chemicals. The clean beauty movement pioneers new ways to approach skin care that keep us safe without compromising quality. This is a responsibility we don't take lightly here at Luma & Leaf. #CleanSkinFTW
What you Can do to Join the Clean Beauty Movement
Clean beauty is an evolution, a journey from one way of being into a more wholesome state, which happens over time. It doesn't have to be all-or-nothing, and it doesn't have to happen in the blink of an eye. To embrace clean beauty, you can take one step at a time in the right direction.
Here are some steps you can take right now to begin your journey:
Avoid Potentially Toxic Ingredients
Here are some common ingredients that have no place in a clean beauty routine because of concern over safety or toxicity:
Parabens
Artificial fragrances
Sulfates
Mineral oils
Petroleum products
Artificial colors
The chances that you own any products with the above ingredients are unfortunately likely. Share this information with a friend to spread the word. To do our part in paving a safer path in the beauty community, we've formulated our products to be entirely free of these chemicals. Our skincare line is natural and cruelty-free because we care about what we put on the shelves, and what you put into your body.
Embrace a Plant-Powered Product
Plant-powered products are good for the planet, too, since plants are a sustainable natural resource. Beyond that, plants have incredible healing power with untapped potential. While traditional beauty routines incorporate hundreds of harsh chemicals with detrimental effects on our skin and our bodies, choosing a plant-based product allows natural healing for your skin that is safe and effective.
Align with a Company you can Trust
Because the current system of oversight does not require the level of safeguards that we, as consumers, desire, the burden falls to us to protect ourselves from toxic and unsafe chemicals. One of the easiest ways to do this is to align with a company that has the same elevated ideals as yourself so you can rest assured that every product you buy meets your high standards for safety and effectiveness.

At Luma & Leaf, our Clean Promise is to bring you safe products you can trust, formulated with nontoxic ingredients and powered by the healing potential of plant-powered products. We are honored to provide you with the peace of mind that comes with knowing that your health and wellness are our first priority. We wouldn't have it any other way.